At Coins Customized, we pride ourselves on being a leader in the industry, recognized as the best challenge coin company. Our operations are rooted in a rich tradition of crafting bespoke challenge coins, not only for the military but also for a wide array of corporate clients. As a registered government contractor with a substantial track record for major federal agencies, our expertise extends to creating coins for safety programs, employee appreciation, innovative business cards, and community engagement initiatives.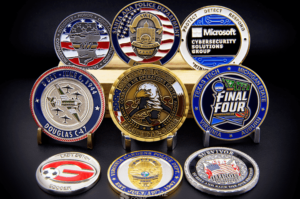 The Art and Science of Challenge Coin Manufacturing
Our journey as a challenge coin manufacturer is a blend of artistic creativity and precision engineering. Here's a look into how we bring these unique tokens to life.
1. Understanding Client Vision
Every coin starts with a vision. Our team works closely with clients to understand the essence of what they want their coin to represent, whether it's commemorating military service, celebrating corporate milestones, or enhancing community relations.
2. Designing with Detail
Creative Conception: Our designers are adept at translating ideas into tangible designs, ensuring each coin is a true representation of the client's vision.
Attention to Detail: From intricate insignias to subtle color nuances, we pay close attention to every detail, making each coin a masterpiece of craftsmanship.
3. Precision Manufacturing
Quality Materials: We use only the highest quality materials, ensuring durability and a finish that stands the test of time.
State-of-the-Art Techniques: Utilizing advanced minting techniques, we achieve unparalleled precision and quality in every coin.
Beyond the Military: Expanding the Reach of Custom Challenge Coins
While our roots are in creating military challenge coins, our expertise extends far beyond.
1. Corporate Clients: Beyond the Battlefield
Safety Programs: Companies use our coins to reward employees for adhering to safety protocols, effectively promoting a culture of safety in the workplace.
Employee Appreciation: We create coins that businesses use to recognize and reward employee achievements, boosting morale and fostering loyalty.
2. Business Cards That Make a Statement
In the corporate world, first impressions matter. Our challenge coins double as innovative business cards, leaving a lasting impression and setting our clients apart from the competition.
3. Fostering Community Engagement
Our coins also serve as tools for community engagement, helping organizations and local governments to connect with people in meaningful ways.
Your Trusted Partner
As a registered government contractor, we bring a level of professionalism and reliability that's unmatched in the industry. Our past performance for major federal agencies speaks to our commitment to quality and excellence.
FAQs about our operations
Q: What sets you apart as the best challenge coin company?
A: Our dedication to understanding client needs, combined with our artistic design expertise and precision manufacturing, sets us apart. Our status as a registered government contractor also adds to our credibility and reliability, as well as our solid past performance for various governmental agencies.
Q: Can you create coins for non-military events or purposes?
A: Absolutely. While we have a strong heritage in military coins, our portfolio is diverse, encompassing corporate events, safety programs, employee recognition, business cards, and community engagement initiatives.
Q: How do you ensure quality in their coin manufacturing?
A: We use only the highest quality materials and state-of-the-art minting techniques. Each design undergoes rigorous quality checks to ensure it meets our high standards and client expectations.
At Coins Customized, we are not just manufacturers; we are creators of tokens that tell stories, honor achievements, and build communities. Our comprehensive approach to designing and producing custom challenge coins positions us as industry leaders, trusted by clients across military and corporate sectors. When it comes to creating coins that capture the essence of an occasion, the spirit of a team, or the identity of a brand, we are the partner you can rely on.