As the blue lights flash and sirens wail, society is reminded of the brave men and women who stand on the front lines to ensure our safety. These valiant individuals face challenges daily, bearing the weight of public safety upon their shoulders. For their unwavering dedication, it's only fitting that we set aside a week to honor and appreciate them. Police Appreciation Week serves this purpose, and today, we delve into the rising tradition of celebrating with custom coins.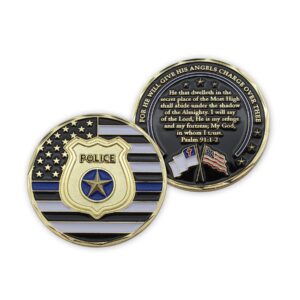 The Deep-Rooted Tradition of Challenge Coins
The legacy of challenge coins dates back to military circles, where they served as symbols of unity, honor, and camaraderie. With time, their significance spread across various sectors, including law enforcement. Today, these coins stand as testament to valor, commitment, and service beyond the call of duty.
Custom Coins: A Modern Tribute
In the context of Police Appreciation Week, custom coins serve a dual purpose. They act both as tokens of gratitude from the community and as mementos of solidarity within the force.
Tokens of Community Gratitude: Police officers frequently face challenging situations, often with little acknowledgment. Custom coins, presented during appreciation events, signal society's collective gratitude. They say, "We see you, we appreciate you, and we stand by you."
Emblems of Internal Recognition: Within police departments, custom coins can be an internal nod of recognition, acknowledging special achievements, milestones, or acts of exceptional bravery.
Designing the Perfect Police Appreciation Coin
Creating a coin that resonates requires forethought, understanding, and a keen eye for detail.
1. Symbolic Elements
Incorporate insignias, badges, or symbols unique to the department. This not only makes the coin special but also deepens its connection with the officers.
2. Personalization
Consider adding the year, event name, or even individual officer names. This personal touch elevates the coin from a mere token to a cherished keepsake.
3. Quality over Quantity
While it may be tempting to add multiple elements, focusing on a few key symbols ensures clarity and visual appeal.
Beyond the Coin: Amplifying Appreciation
While custom coins are a significant gesture, Police Appreciation Week is an opportunity to reinforce the bond between law enforcement and the community. Here are additional ways to deepen the appreciation:
Community Gatherings: Organize events where citizens can meet officers, fostering mutual respect and understanding.
Open Letters: Encourage community members to pen open letters of gratitude, humanizing the force and building bridges.
Educational Programs: Collaborate with schools to educate students on the roles and challenges of police work.
FAQs: Celebrating Police Appreciation with Custom Coins
Q: How long in advance should I order custom coins for Police Appreciation Week?
A: Ideally, 4-6 weeks in advance to ensure adequate time for design finalization, production, and delivery.
Q: Can I replicate the police department's badge on the coin?
A: It's crucial to obtain permission from the respective department before using specific badges or insignias to avoid copyright issues.
Q: Is there a limit to how intricate the coin design can be?
A: While intricate designs are possible, ensure that the detailing doesn't compromise the coin's legibility or aesthetic appeal.