Since they were first employed in the military, personalized challenge coins have been used as a symbol of pride, success, and distinction. Soldiers earn unique unit coins for dedication and quality in their work, and the collection of military coins they assemble over time serves as an homage to their individual successes and experiences. Whether they are squad-specific coins manufactured especially for a squad or personalized coins distributed by officers, all Army coins reflect a common feeling of honor and pride in duty.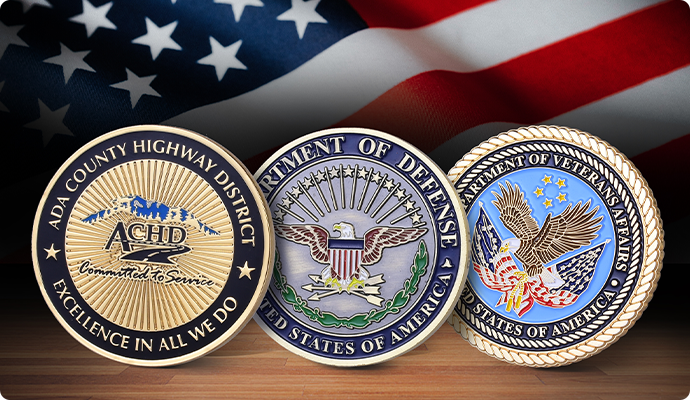 What Makes the Ideal Military Challenge Coin Perfect?
According to official documents, the Army's 17th Infantry employed unit coins for the first time during the Korena War, as you can see if you quickly scan the history of challenge coins. Army challenge coins are famous for being the most diverse in terms of design, size, and shape among all the branches of the military today.
By putting a special emphasis on team culture and unit history, the Army continues to create individualized designs, each with a distinct sense of originality and character. As seen on numerous of our favorite Army challenge coins, a team's mascot and emblem are a great place to start when looking for the appropriate design.
Creating distinctive challenge coins is simple thanks to us!
Designing a Special Army Coin
You can find the best source of inspiration for a unique coin design by focusing on what makes your team unique. Army Ranger challenge coins will each have a unique personality, just like a set of specially issued Army coins from a brigade or Army Air Corps will be specific to their respective teams.
For coins with team logos or mascots, we employ the Pantone Color Matching System to make sure the final design is comparable to the already-existing brand associated with a unit of soldiers. A particular set of customised military coins designed after the patch or coat of arms of a unit can be shared by a number of soldiers.
Another common feature used in the design of unique Army challenge coins is allusions to the equipment that soldiers use or carry. We've created coin designs for the Army National Guard with the traditional logo inscribed on the coin face, the Air Cavalry with Apache helicopters pressed into the coin face, and even chemical warfare units with coins shaped like gas masks.
As the top Army coin manufacturer online, we wish to create every product a real piece of team history and a representation of the camaraderie shared by troops. The secret to choosing what will work best for your design is to understand what makes your team stand out from the competition. Army challenge coins are constantly used to show loyalty to the Corps, but they are most usually used to honor the distinctive characteristics that set a small unit of soldiers apart.
Making US Army Challenge Coins: How to Get Started
Simply fill out a free quote form, include some background information about your team, and we'll get started on designing an Army challenge coin for you. We created a unique challenge coin template for our clients' quote forms that allows them to remark on designs, sketch out concepts, and select details like size, shape, metal plating, and custom edging.
The coin template is not required. Even hand-drawn sketches of original designs and pictures of unit insignia are accepted. Our team will produce your first complimentary proof of artwork within 48 hours of receiving the fully filled form.
Whether it be a commander coin distributed by a senior officer, a personalized bottle opener shared with squadmates, or a unique Army coin carried as a symbol of fellowship and camaraderie, every design our team participates in creating is intended to honor the service of our country's heroes. To find out more about what makes Challenge Coins 4 U the best custom coin producer available, give us a call right away.
Making Custom Army Challenge Coins with Challenge Coins 4 U
Every single Army challenge coin stands for bravery, camaraderie, and accomplishment. We make every effort to ensure the finished coins are of the highest standard possible because the designs we help create are a symbol of a team's character and history. Army National Guard coins, special forces coins, and unique unit coins are all created by our team at Challenge Coins 4 U in collaboration with customers.
The quality of our products and client service demonstrate how much pride we have in our work. Free shipping, 100% quality assurance, unlimited revisions, and free artwork are all provided to every client. Fill out a free quote form now to see why we are recognized as the best free online coin maker.