There is a reason why the US Navy buys so many command coins from us.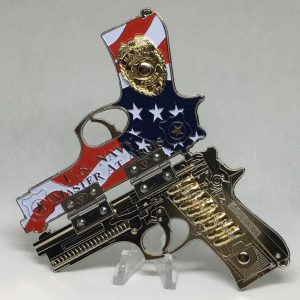 In the Navy, the challenge coin is well known as a gift from Captains, Admirals, as well as Commanding Officers. Custom  Navy challenge coins are sometimes awarded to Sailors who go above and beyond what is required of them or who stand out in a good manner that impresses the US Navy's leadership. Many Navy coins display the official seal, emblem, or motto of a ship or fleet. Shore commands have similar designs that exhibit their primary priority and how they support the fleet. These designs often match the emblems on plaques and awards given to the best sailors. Navy Coins are often used to thank a Sailor for a duty that altered their life. It can be offered in exchange for a favor, or it can be used to help a lost Sailor find his way when things are hard. Veterans who have official command coins can get advice and help from higher-ups if they adhere to the values that got them the coin during the first place. Navy Coins are designed to show things like pride, tradition, and loyalty. As you look through the coins, think about how honorable and respectful it is to use them as a reminder of a job well done. Fill out our free quote form today to see how our team at Coins Customized can help you design yours. Mention this article for 10% off.
US Navy Challenge Coins manufactured by Coins Customized were created with original artwork and design features that demonstrate a broad range of US Navy art, from Hospital Corpsman, to the US Navy rate coins we offer, to the US Navy Chief coins with precise detail. Navy Challenge Coins we created are some of the most sought-after challenge coins because of just how unique they are and how well they were made, as seen in the quality of each piece. We have crafted custom navy challenge coins for hundreds of US Navy commands, such as warships including Arleigh Burke destroyers, Virginia attack submarines, and  F/A-18E/F Super Hornet squadrons, for more than a decade. Each coin is made with dedication, and is stamped to perfection. Each coin is also hand checked for quality control and inspected for high quality to make sure it is free of any defects.