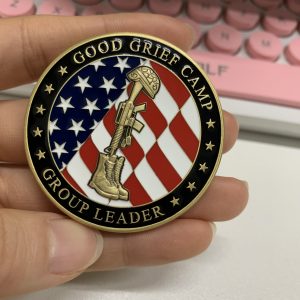 When you work with Coins Customized, one of the best things is that our team will make high-quality illustrations of your custom coin designs for free!  Send us the details of your coin's design along with your first inquiry, and our team will make a high-quality image of your idea as a coin.
When you combine free artwork with endless changes, you have a great chance to make your options fit your needs before you finalize an order.
In today's post, we'll talk about the most important parts of looking over an art proof from Coins Customized and give you a few quick tips on how to do it.
About Your Art Proof
When we give you a free price estimate for a coin, our art squad goes a step further and uses your ideas to make an incredibly detailed custom coin design.
Coins Customized divides each art proof into different parts, such as:
The mockup is the actual piece of art that shows both the front and back of your custom coin design. Our visuals take into account any changes you want to make, such as the color, plating, shape, and more. We also include our own suggestions for how we think a coin could be better. Even if you already have a finished sketch for a coin, our mockup is a great way to see how the characteristics of a coin will look as a finished product.
The color palette is a list of all the colors and platings used in a design. It is part of every art proof. We utilize the Pantone color matching system that makes sure that every color looks the same on every screen. This way, your designs will always have the right colors. We use this same area to verify the size of your coin and the number of changes made to a design in case you want to go back to an earlier one.
Coin Size: Every art proof comes with a small size chart so you can get a better idea of how big a coin design will be and confirm the size of your coin before it goes into production. Even though the chart isn't to scale, it gives you a good idea of how the finished coin will look and feel.
Additional Options: Each art proof has a list of additional options and how much they cost. Options like bottle openers, two-tone plating, to sequential numbering and more can be added to a coin design to make it even more unique.
Social Links: We put a few links to this blog and our other social media accounts on each art proof so that designers can get ideas, tips, and see some of our best work. It's a good place to start if you want to learn about how your coin is made or just want to get some benefit for your own design.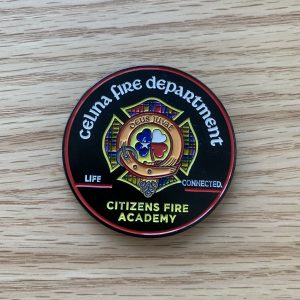 Taking a look at the art on Coins Customized
Every price quote from Coins Customized comes with a free art render of your challenge coin's design, showing all of the options and customizations you can choose.
But the art isn't just a nice thing we did for you. Your feedback as a customer is very important, and the more useful feedback you give, the better our squad can help make a product that meets your needs.
Each art proof is a model of how your ideas will be turned into a custom challenge coin, and carefully looking over the artwork is an important part of the design process.
Look at each proof with a critical eye to make sure that each and every detail on a coin design is exactly as you want it. Once a design comes to fruition, no changes can be made.
When you look at your proof from Coins Customized, the most important things to keep in mind are:
Emblems, flags, pictures, colors, and other things that can be seen are the first components of a coin that people will notice. Make sure that these details fit your needs and can be figured out in 5 seconds. If any part of how your coin looks is wrong or doesn't match what you had in mind. Write it down and think about what changes you could make to make it fit your idea.
Text, Grammatical errors, Spelling: A misspelled word or term will quickly take the wind out of your sails, no matter how brilliant the rest of your coin looks. When our team looks over the remarks for a coin design file, they try to catch any mistakes or strange spellings. However, we can't stress enough how important it is for you to check the text three times to make sure it's correct.
Customization options: Coins Customized has a lot of unique customization options, such as cut-to-shape designs, 3D molds, translucent paint, and more. Your art proof is the best chance to look over these options and see how they compare to your coin's original id
Giving the Design Team Your Opinions
If you are satisfied with everything in the first art proof, you can skip this step.
But if you're one of the many people who change their minds after the first draft, you'll need to know how to give proper feedback in order to finish your challenge coin. It's easy to say the wrong thing or have ideas get lost in translation when someone is excited about a great design or disappointed that a specific customization isn't working as planned.
When providing feedback to the designer on your proof, keep the following tips in mind so you don't have to spend as much time fixing a mistake
Be clear: "Make it pop" is a vague phrase that no designer likes. When you send back a coin design, be sure to write down precisely what you want to be changed and were on the coin.
Use clear, descriptive language. Writers can get their ideas across well by using colorful words or adjectives. But designers? Your descriptions should be as clear and concise. Instead of having to tell a designer, "This coin needs more life," explain what you mean by "more life." Do you want colors to be more vivid? More detailed lines? A 3D shape? Try to be as concise as you can.
Use the Right Words: Know the difference between your plating styles and your color options. If you and your graphic artist use the same words to talk about what you want, it's much more likely that your ideas will be written exactly how you want them to be.
List All Changes at Once: Remember how you were making a list of the details of your art proof? Make sure to send it all at once to the team instead of sending comments or requests one at a time. That way, we can show you all the changes at once and then assist you cut them down until you have the exact challenge coin you want.
Coins Customized makes sure you're happy with your order before it goes into production by giving you free artwork and letting you make as many changes as you want.
Our company has worked with customers to make custom coin designs in almost every size and shape for more than ten years.
Send us an email  or fill out our online form to start working with us.
Remember:
-Free artwork and design!
-Free revisions!
-Free shipping on each order!