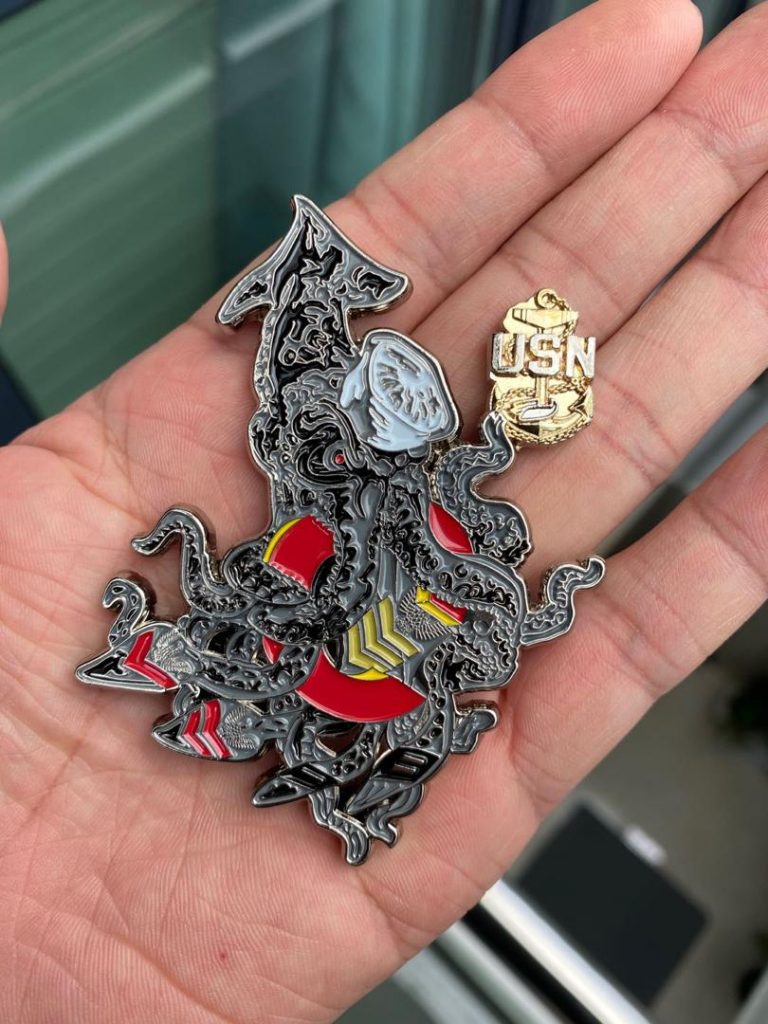 High polish challenge coins boast a sparkling mirror finish as its most distinguishing characteristic, making them the brightest of our plating options. A high polish finish is your best bet if you want to stand out from the crowd. However, if you don't know what you're doing, working with this plating option might be difficult. There are several best practices for developing a high-quality challenge coin that will not only look fantastic, but will also feel excellent in the hand.
High-Polish Challenge Coin Features
The most obvious benefit of going with a high polish finish is that it will give your challenge coin a sparkling metallic appearance. A high polish finish is recommended if you want a coin to resemble an Olympic medal or trophy. There are a number of other reasons to choose this type of finish. High polish challenge coins are a good starting point since they are less expensive and can be made more quickly than popular antique finishes. As with every project, we provide a wide range of design possibilities to ensure that your challenge coin is unique and stands out from the competition. The team at Challenge Coins 4 U can help!
Contrast And Visual Texture May Be Achieved By Using Dark Colors.
With high polish challenge coins, there is no natural shading for the recessed areas of a design, unlike challenge coins with an antique finish. When a coin has a high polish and a shining finish, the brilliant sheen might hide some of the coin's finer details and textures. To achieve shaded details on high-polish challenge coins, use an enamel color fill to shade in the recesses directly. So, the polished surface and deeper color tones create a remarkable contrast, making it difficult to mimic.
Raised Text or Colored Recessed Text On A Colored Background
Challenge coin wording can be raised or recessed on the coin's surface. Without adding any shading, the brilliant polish of a challenge coin may make the design useless. Raising the text just above color background on color-heavy challenge coins will offer your text a naturally polished and clean appearance. If your challenge coin has recessed text and uses only a few colors, the opposite is true. To make the recessed text more legible, use a different color to fill in the area. You can still view highly polished text by increasing its font size if you don't use any color on your text, like on a die struck challenge coin.
With A High Polish, Dual Plating Looks Gorgeous.
Adding a second layer of plating to a challenge coin is a great way to make it stand out from the crowd. We recommend, however, that for a dual-plated coin, you select one with a high polish as one of the options. Whether used alone or in combination with another plating choice, the shine of high polish raises your coin design to new heights in terms of visuals. A high polish will always stand out and practically sparkle, even if you only use it on a little area of your coin.
Keeping Your 3D Details Simple In The Mold
Even though 3D molds are one of our most popular options, you'll want to keep the sculpted features basic when using them in conjunction with high gloss plating. The amount of detail that goes on a challenge coin can be difficult to determine. However, sculpted detail on a challenge coin requires the use of weathered (we call it antique effect) to keep it legible, therefore most 3D challenge coins look their best when weathered. That said, you ought to be able to use a high-polish coin in 3D modeling without any problems. For the greatest visual presentation, keep your coin's 3D features minimal or place it against a dark background. In our opinion, the greatest way to show showcase your high polish challenge coin is with simple geometric forms and rounded patterns.
Use Challenge Coins 4 U To Keep It Shining
The combination of color, molding, and design has produced some of our greatest work at custom Challenge Coins 4 U. Don't forget that we provide free artwork and unlimited changes to all customers if you're hesitant (not to mention free shipping!). Our design staff will work closely with you to come up with the perfect design, from the shape to the color. Send us an email at sales@challengecoins4u.com or use our quote form to get started!